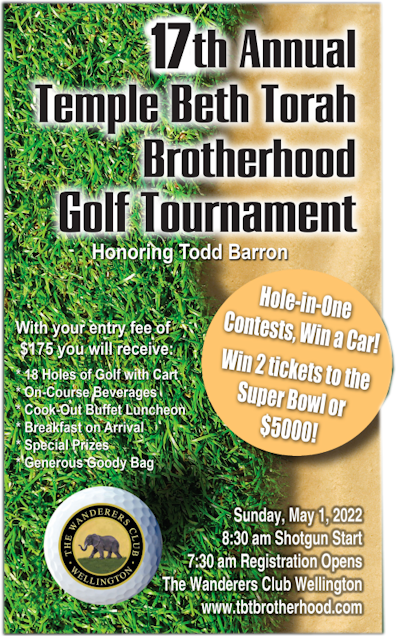 With your entry fee of $175 you will receive:
18 Holes of Golf with Cart
On-Course Beverages
Coock-out Buffet Luncheon
Breakfast on Arrival
Special Prizes
Generous Goody Bag
Sunday, May 1st, 2022
8:30 am Shotgun Start
7:30 am Registration Opens
The Wanderers Club Wellington
Honoring Todd Barron


For additional information
please contact:
Steve Miller at 561-389-7544 or
Marc Kratenstein
or you can e-mail us by clicking HERE
to send us an e-mail.
docsmiller@gmail.com




To register using our Secure Online Registration system,
please click HERE.




Be a part of our sponsored membership directory! The directory is an 8 1/2 by 11 sponsored membership directory. Below is a sample of last years journal. A copy will go to each Temple Member. Click HERE for more information and to place and ad.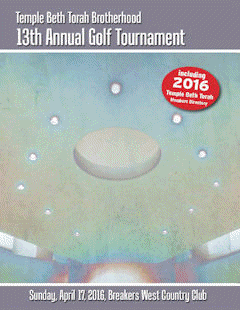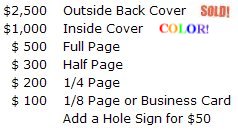 Dinner Sponsor - $3,500
Foursome, Two Hole Signs, Dinner Banner, Website Ad, Award, Full Page in Journal, Sponsorship Table at Registration

Golf Ball Sponsor - $2,500
Foursome, Two Hole Signs, Website Ad, Award, Half Page in Journal, Your Logo on Golf Balls given to all players.


Registration Sponsor - $2,700
Foursome, Two Hole Signs, Registration Banner, Website Ad, Award, Full Page in Journal, Sponsorship Table at Registration
Cart Sponsor - $2,000
Foursome, Hole Signs, Website Ad, Golf Cart Signs
Putting Contest/
Longest Drive Sponsor - $1,750
Foursome, Sponsorship Signs, Website Ad, Full Page in Journal, Promotional Placement item in goody bag

Corporate Sponsor - $1,500
Foursome, Hole Signs, Website Ad, Half Page in Journal